Are You Dreading Open Enrollment?
Relax! We've done all the hard research for you.
Our free guide answers the top 10 questions consumers have about individual health insurance and open enrollment.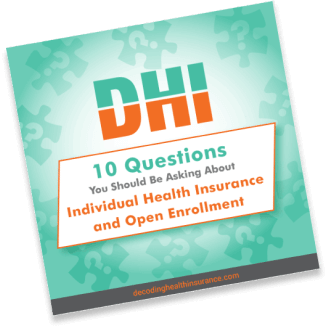 Who is individual health insurance for?
When can I enroll?
What kinds of health care services are covered?
What do I have to pay for individual health insurance and can I get financial assistance?
Which health care providers are included in a health insurance plan?
Which prescription drugs are covered?
What are out-of-pocket costs (cost sharing)?
What are the differences between coverage levels (metal levels)?
How do I get help signing up?
How can I learn more about health care coverage and ways to save money on health care?
Get our valuable guide
"10 Questions You Should Be Asking about Individual Health Insurance and Open Enrollment"
High Medical Expenses Lead to Worry and Debt
Consider DHI your independent guide to helping you avoid unnecessary and unaffordable medical expenses so you can focus on living your best life
There are many more important details, helpful tips, and resources in the 180-page book
Decoding Health Insurance and the Alternatives: Options, Issues, and Tips for Saving Money.
by Lauren Jahnke, MPAff.